Big Shot Akela Cranes
Our 80ft Akela Crane is one of the longest arms in the West Coast/Los Angeles area. Our Akela can be constructed to arm lengths of 45ft, 58ft, 72ft and 80ft reach, and some custom sizes in between. The lens height depends on the camera and remote head configuration, but can be just under 60ft with the 80ft arm, meaning you can move from almost 6 stories high to ground level (or below) in a single fluid movement. The strength of the Akela is in the cables mounted over the top and along the sides the arm. The nose load of the arm at 80ft is 130 lbs. (Camera system weight plus Remote Head)
The 80ft Akela crane travels complete in a 28 foot custom Pace trailer, and includes a 4 x 4 Gator for towing the Akela into placement on location.
The Akela rental does not include a remote head or focus system, there are many options of remote heads and focus systems available from other vendors, depending on the needs of your shoot. We do have a lightweight Triangle Jimmy Jib remote head including joystick or pan and tilt wheels that can be fitted to the Akela on film or video style
shoots as an additional rental.
NEW

Akela Crane 86ft with Self Leveling Base.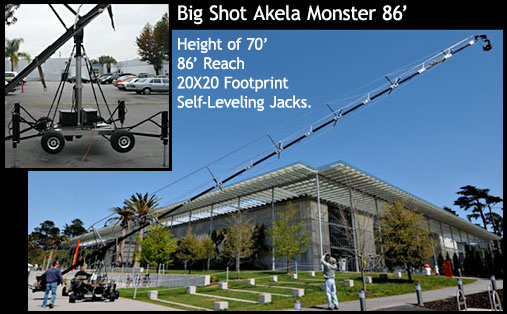 Bigshot's Akela Monster 86' has a lens height of 70', a 86' reach and a 20X20 footprint. It is supported by self leveling jacks and has a telescoping center post for added height.
Akela Crane 80ft
Set up time 2.5 hours
Strike Time 1.5 hours
Arm Reach 80ft 73ft and 66ft
Lens Height 60ft 53ft and 46ft
Overall Arm Length at 91ft, 84ft and 77ft
Max Nose Load 130 lbs. (80ft), 200 lbs. (73ft), and 225 lbs. (66ft)
Footprint needed for operation 20ft X 20ft
Transported in a 28 foot trailer complete with a 4-Wheel Drive Gator for Akela Placement.
Akela Crane Jr 53ft
Set up time 1.5 hours
Strike time 1 hour
Arm Reach 53ft 46ft 39ft and 32ft
Lens Height Underslung 50ft 43ft 36ft and 32ft
Overall Arm Length 62ft' 55ft 48ft and 41ft
Max nose load 150lbs. (53ft), 175lbs.(46ft) 200lbs. (39ft) and 225lbs.(32ft)
Footprint needed for operation 20ft X 20ft
Transported in a 12 foot trailer.